Sliding Scale Commissions!
by
AJ Sterling
---
EVERYONE DESERVES ART!
We 've all been through some shit lately. The ability to have your ideas expressed through a visual medium is becoming more of a luxury for the layman, while artists themselves are continuously scammed and exploited for their hard-earned labor.I'm here to try something a little different.My name is Amy. I've been an artist for over 30 years. It's not just my passion, but the core of my being. The ability to translate ideas to paper is such a rewarding experience for me, and it can be even more so if I'm able to do the same thing for other people.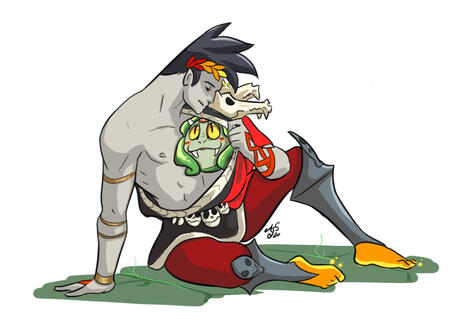 ART IS SUBJECTIVE!
The paradox of purchasing art has been a hot topic for centuries. How do you put a price on something that changes in value from person to person? How do you put a price on something that requires an entirely immeasurable amount of skill and effort to produce?I've seen so many instances of artists being pestered by people who recognize that art is inherently priceless, and want to be surrounded by art, but don't have any meaningful way to compensate the artist for their time and labor.The demand is there, but there is seemingly no solid way to appease that demand without sacrificing more time than it's worth. In addition, we live in a point in history that has hit us hard and has no plans to stop. Who can possibly afford to spend time and precious money on something that is ultimately not that important to have?
ART IS IMPORTANT!
Except that it is important. Art is ultimately what makes us human. It allows us to express ourselves when words don't cut it. It's how we untangle things and understand the perpetually changing and downright frightening world around us. It brings us peace. It brings us sanity.Being stuck indoors and isolated has forced many of us to sit down and reflect on what gives our lives meaning. After all the work, all the cooking and cleaning, all the bill paying, all the child-rearing, etc...what's left? What are you living for? What brings you joy, what makes you smile? A life with no art is a life with no soul.I have been extremely fortunate to have ended up where I am today. I have seen so much suffering and misery brought to light, and while I'm not exactly 'thriving,' I find myself in a position where I am able to give back, and maybe if my luck holds out...I can make the real change I want to see in the digital art community.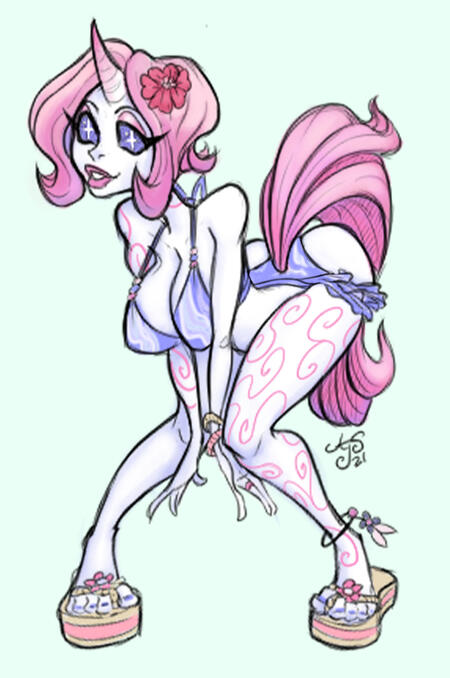 OKAY COOL SO WHAT'S ALL THIS ABOUT CHEAP COMMISSIONS THEN?
I'm particularly skilled at two things: Drawing quickly and efficiently, and having a flexible art style. As a result, I can get a lot done in
a fairly short amount of time. This allows me to work within a small budget while also providing an adequate snapshot of your concept. So if you only have $5 in your pocket, send me a DM! I can work with it.Now, this doesn't mean that you can get a magazine cover out of me for five bucks, but I can get you somewhere with five bucks. Typically I can do a light sketch or a small cartoon doodle for a five dollar budget, which is a lot more useful than you'd think!I've often assisted other artists with their work simply by helping them out with anatomy or perspective. If you're struggling with a pose, send me $5 and I'll sort it out for you! Or, if you need a little Discord icon to stand out from the crowd, a $5 doodle is the perfect solution. Even just having a rough visualization of your character can be the difference between finishing that fic or designing that game sprite.Of course, if you have a lot more to spend, then I have a lot more to provide! The bigger the budget, the more love and time I can slap on it. Take a look below for examples of what I can do!
HOW TO COMMISSION ME!
E-mail me at [email protected]
Tell me your budget. Be honest! No judgement here. Tell me the min/max you want to spend, and I'll work within it. Please be aware that $5 is the absolute minimum and is non-refundable. $5 is also the minimum down payment for commissions under $100. The down payment increases by $5 per $100 spent on the commission.Tell me what you're looking for! Do you have a DnD character that you need a headshot or a bust for? A character sheet? Just some general concepts, or maybe a whole illustration? I can do them all. My style can also range from cartoony to realistic, so be sure to have an idea in your head to start with!Send me references!!! (So many references) References can include but are not limited to: Celebrities that look like your characters, outfits they would wear, "mood boards" for your character, backstories, important physical features, characters in media that inspired you to make your character, and even other commissions from other artists! The more you share, the more accurately I can pin it down. If your project looks doable, I'll send you a price estimate and we can go from there!Once you've decided to commit , send me a down payment and I'll add you to my queue. Turnaround time is usually about a week, but I am in fact, a flawed and notoriously disorganized human being and may need more time. Please let me know if your commission has a time limit. (Time restraints are subject to additional fees at my discretion)I'll send you progress reports (how many depending on how complex we've set the commission) and will adjust the product according to your feedback. Once you're happy with the final product, I'll send you an invoice via Paypal. My invoices always include the ability to tip, so if you feel like I went above and beyond, please feel free to tack on what you can. :)
---
THE FINE PRINT AND OTHER IMPORTANT CRAP
- I can do machines but I prefer organic subjects like people, plants, and animals. (Furries welcome!)- I'll draw NSFW stuff but not too extreme.- I reserve the right to crap out on your commission for any reason. I won't charge you for anything you didn't receive.- I'll work for cheap but I won't work for free. Respect my time and I'll respect yours.- I accept payment via Paypal Only- You own the rights to the work for Personal Use Only. If you end up using a sketch for your own work, please credit me if you post it on social media. (While I am potentially open to doing freelance contract work for commercial purposes, that's a whole other ball game. My Sliding Scale Commissions are strictly intended for individual use.)- I'm a human being, not a corporate entity. I'm just trying to make a living doing what I love. Please be patient with me.- No Fucking NFTs. I swear to God Almighty if I find my art as an NFT I will Summon an Army From Hell to Destroy You and Everyone You Love. Do not pollute my inbox with that shit. Thank You.-If you want to support me in other ways, I have a semi-up-and-running Patreon. Since my audience is small it is currently donation only, but assuming I end up with a larger demand for these, I'll eventually add some tiers to manage the workload traffic.
---
ONE LAST THING
If my art has ever brought you joy in any capacity, whether you're simply a long term follower on social media or someone who has supported me on this journey, I love you. Thank you. Thank you for taking the time to look, and consider, even for just a moment. Your words and encouragement power me to do this, and bringing just a little light into a world with so much darkness is what I'm here to do. I hope that I can provide access to art for people who feel like they can't, and I hope I can continue to help make people's dreams come true.
---
Gallery
Mercy (Clean Sketch/Realistic) - $100
Android (Clean Sketch/Realistic) - $75
Character Sheet - $150-$200
Cheapo Doodles - $5-$25
Portraiture Sketches - $25
Full Color Character - $250